Florida Cake, a delightful offspring of the renowned Wedding Cake strain, is making waves in the cannabis world. Known for its impressive flavor profile and potent effects, this hybrid is a favorite among cannabis enthusiasts. This review delves into what makes Florida Cake a stand-out strain, from its appearance and aroma to its potential terpene-driven effects.
Appearance: A Sticky Resin-Coated Nug
A nug of Florida Cake bears a striking resemblance to its parent, Triangle Kush. Its surface is dominated by dense, dark yellow and green leaves, with occasional flecks of purple that serve as a reminder of its Wedding Cake lineage. What truly sets this strain apart is the thick, sticky resin coating that envelops the nug, giving it a rock-like feel. Inside, you'll find an equally generous layer of trichomes, along with some darker hues intermingled with the foliage.
The Terpene Profile
Florida Cake boasts a terpene profile that may include myrcene, limonene, and beta-caryophyllene. While it retains the sweet floral cake flavors from its Wedding Cake parent, it's the peppery-spice with citrus notes inherited from Triangle Kush that takes center stage. These terpenes suggest a potential array of stress-relieving and bodily relaxing effects, making Florida Cake a well-rounded choice for those looking to unwind and soothe their senses.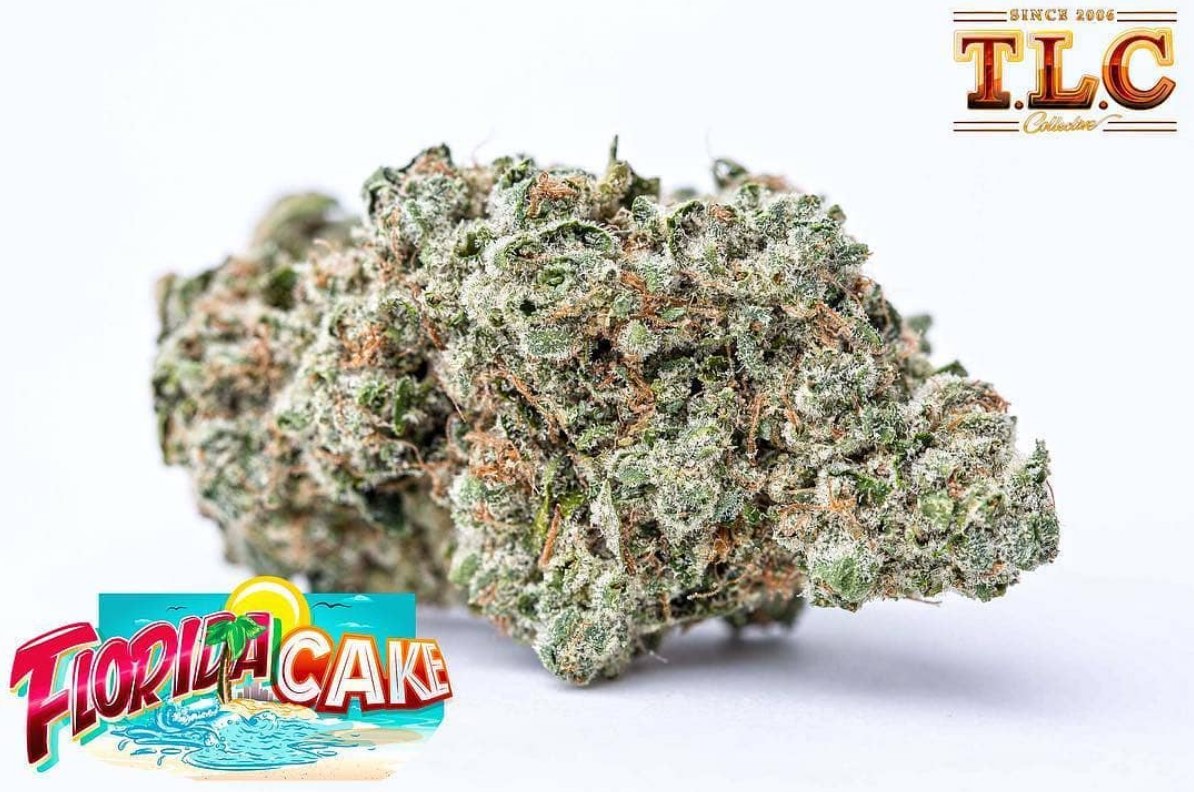 Aromas That Excite
If you're a connoisseur of delightful cannabis aromas, Florida Cake will surely excite your senses. Reeking of floral sweetness and peppery notes, this strain delivers a bouquet of scents that may make your nostrils flare in excitement. The aromatic journey of this strain is as enticing as its effects, promising a well-rounded experience that caters to both your olfactory senses and your state of mind.
Potent and Well-Balanced Effects
Florida Cake strikes a remarkable balance between its indica and sativa influences. This hybrid offers a combination of cerebral and physical effects, making it suitable for various occasions. Whether you're looking to relax after a long day, foster a creative spark, or simply unwind, Florida Cake has the potential to deliver.
New York Convenience
If you're in New York City, experiencing the delightful Florida Cake strain is just a few clicks away. Convenient cannabis delivery services are available, covering a wide range of boroughs, including Queens, Brooklyn, and Manhattan. This accessibility ensures that you can enjoy this exquisite hybrid without leaving the comfort of your home.
A Floral and Peppery Delight
Florida Cake, with its floral sweetness and peppery-spice aroma, is a true delight for cannabis enthusiasts. Whether you're drawn to its enticing scent or the potential for abstress-relieving experience, this hybrid strain has much to offer. As it gains popularity in the world of cannabis, don't miss the chance to savor the flavors & effects of Florida Cake. It's a tasty option that's ready to brighten your day and soothe your senses.
---
Be sure to review the delivery page! GreenTherapyNYC prides itself in fast and professional delivery across New York City. Take a look at our selection here.
Check out more content on my blog.
Are you looking to have your product reviewed, have questions or comments? Please reach out to me.