Green Therapy NYC delivers some of the best weed edibles in New York City. We have different types of edibles including brownies, gummies, cakes, and chocolates. Whether you want to try one or two or ten of our top-quality edibles, you will love the marijuana-infused taste and how it helps treat your pain and stress relief from everyday life.
How much THC is in your Marijuana?
You will find that the THC levels in your marijuana will vary depending on the type of plant it came from. The THC levels will also vary depending on how the plant was grown and what kind of environment it was grown in. If you are looking for a high THC level, you should look for a delivery service that can provide you with the best quality marijuana.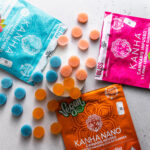 Edible Dosage Tips
As always, start small with edibles. You can always take more, but you can't take less once the edibles have kicked in. With that said, here are some general tips for dosage:
– For a first-time user, 5-10mg is a good starting point
– If you're a seasoned smoker, you can start with 10-15mg
– If you're looking for a strong high, start with 15-20mg
And remember, our delivery services make it easy and convenient to get your hands on the best weed edibles in New York City!
How do I know if my edible was made correctly?
If you're wondering how to tell if your weed edible was made correctly, here are a few things to look for. First, check the potency. If it's too weak, it probably wasn't made correctly. Second, make sure the delivery method is effective. If you're eating an edible, it should be discreet and easy to consume. Third, the taste is important! Make sure the edible tastes good and isn't too sweet or artificial tasting. Fourth, look for side effects.
How long does it take for my edible to kick in?
Weed edibles can take anywhere from 30 minutes to 2 hours to kick in. The time it takes for an edible to take effect is mainly due to how the edible is made and how much THC it contains. If you are new to weed edibles, start with a low dose and give yourself plenty of time before taking more.
Top reasons to buy from Green Therapy NYC
If you're looking for the best weed edibles in New York City, look no further than Green Therapy NYC. Here are reasons why you should buy from us -No need to worry about whether or not your card is going to get rejected; we have several types of edible products and a huge variety of different strains
–
Delivery
all around New York City and we offer
delivery
within an hour if you order before 11am. We are also open late until midnight every day so no need to worry about it being too late at night
-No long lines at our dispensaries; it's much easier to walk into one of our stores instead of waiting outside for hours on end with all the other people that have also been waiting.
Plus, we have a much more diverse menu with lots of different types of edibles available in each store! There are sweet-style items like Rice Krispie Treats, Red Velvet Cake, and S'mores as well as savory items like Spicy Thai Peanut Butter and Hot Wings Pretzels.
And we even have some vegan options such as Sour Cream & Onion Tofu Fries or Buffalo Cauliflower bites!
No matter what type of edible you're craving, there's something for everyone here at Green Therapy NYC.
Delivery
is available from 11am-midnight 7 days a week so no need to worry about not being able to find a
delivery
service when you really want it!